We are ClearPoint Studio.
We are a different kind of digital agency: we design creative, results-driven websites and other online media that WORKS! We think of your project an investment with a return - not an expense.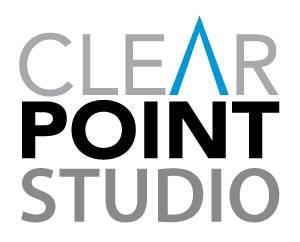 Who we are.
Our goal is to help our clients accomplish fantastic things through online marketing. That typically starts with a new website or a website redesign project and evolves into a long term relationship built on analytics and improvement. We leverage technology so that our clients can focus on running their business. And we're damn good, too! We believe that we have the best online marketing team available. That lets us focus on all things web, from website design to complicated mobile applications & everything in between.
Design
According to multiple surveys, almost 46% of your visitors will judge the credibility of your organization based on the design of your website. It's that simple. You NEED to have a great design across all platforms. Let our creative marketing professionals help your business stand out from the crowd!
Strategy
We can provide you with a total online marketing solution, tailored to YOUR specific business needs; an innovative, attractive & professional web design that will assist you to open new markets for your business is just the BEGINNING! We can work with you for Step 2 - driving people to your new website.
Digital
Maximize your online marketing effectiveness with an incredible website as well as and other media such as downloadable brochures & online video. Our design team is expertly experienced in showcasing your business while maximizing your return on investment, making your project not an expense but an investment.
Marketing
Our internet marketing team can manage your email newsletter marketing campaigns, maintain your social media marketing efforts, and even supplement your business blogging efforts through sales-focused copywriting. Contact us to speak with one of our online marketing professionals today!
1 It usually starts with a phone call or a meeting. Once you have spoken with an ClearPoint media consultant, you will receive an electronic copy of our Website Survey & Planning document - simple planning tool designed to help you organize what you are looking for regarding content and design for your new website.
---
2 Once the Website Survey & Planning document has been completed and all of the accompanying artwork has been received, our graphics team will begin preparing a concept design for your website. We will then share this initial design with you so make sure we are headed in the right direction.
---
3 Now we build out the rest of the website. You are with us every step of the way - reviewing pages as they are posted. You know your business better than we ever will - but we specialize in how to convey your business premise in an engaging way. So, the best approach is to work in a collaborative way. For more information, be sure to watch the video at the top of the home page.